IN THE HISTORY OF POPULAR MUSIC, there are certain figures who were true catalysts, and brought together key people who went on to create classic, timeless music. Mama Cass and Van Dyke Parks were catalysts, as is our guest on this episode, Peter Asher.
But for Peter, as he relates in this episode, for him that catalyst was primarily Kootch, AKA Danny Kortchmar, our guest on Episode Three. Kootch was instrumental in not only creating much of this music as a guitarist and songwriter, but also by famously bringing together people – such as James Taylor and Peter Asher – who went go to to create great music for decades.

Peter & James at the `Sweet Baby James' photo shoot with Henry Diltz,
At a former farm in Burbank where the Oakwood Apartments now stand.
As James recalled about this momentous Kootch connection:
"I convinced my parents to get me a plane ticket to London in 1968. I called my friend Danny Kortchmar – Kootch, as we used to call him and still do – he was a key person in my life in terms of connecting with a lot of people. And he had toured a year with Peter Asher – of Peter & Gordon – during the British invasion.
So I took my demo to see Peter Asher. And as luck would have it, Peter had just signed on as A&R director for Apple, The Beatles' brand-new label, and it was his job to find people for the label. He heard my demo and arranged an audition with Paul McCartney and George Harrison.
Paul said to Peter, 'This is great. You feel like producing a record?' And Peter said, 'Sure, I'll produce it.'
Peter was a key person. Peter was my manager – and is my dear friend – and we learned how to produce together. And that was my big break. It was a remarkable dream come true. It really was."

Peter, James & Kootch

Peter Asher's entire life reads like a remarkable dream come true, as he was present and part of so much of momentous music history. Born in London in 1944, his father Richard Asher, was a doctor, author and occasional pianist, and his mother Margaret was a musician who taught at several conservatories. While at the Guildhall School one of her oboe students was future Beatles producer, George Martin.

Photo by KEVIN WINTER
But Peter – as Beatles fans know well – had a closer connection to the Fab Four than that. Paul McCartney dated Peter's sister Jane Asher, and actually lived in their home – at 57 Wimpole Street in the Marylebone district of central London.
Historic people lived on Wimpole, most famously Elizabeth Barrett Browning, who lived at 50 Wimpole until 1846 when she eloped with Robert Browning, leading to the play about their courtship, "The Barretts of Wimpole Street."

Peter & Jane
Paul lived there – in an upper bedroom next to Peter's – for two years. (Though he toured during some of this time, as Peter tells us). Lennon and McCartney wrote "I Want To Hold Your Hand" here, and it's also here that Paul came up with the melody to "Yesterday" in his bedroom.

Paul & Jane Asher, 1964.
Peter was a performer from an early age, and worked as an actor on the London stage, and in TV shows and movies. Brilliant from the start, although humble, he was a member of Mensa, but said that was proof not of a high IQ, but his talent at taking tests.
He met Gordon Waller at school, both of whom loved singing and playing guitar, and they formed the duo Peter & Gordon. Again, their timing seemed providential: they recorded a song McCartney wrote, "World Without Love," which Lennon didn't love and rejected for The Beatles. It became a number one hit around the world just in time for the British Invasion.

1964, written by Beatle Paul.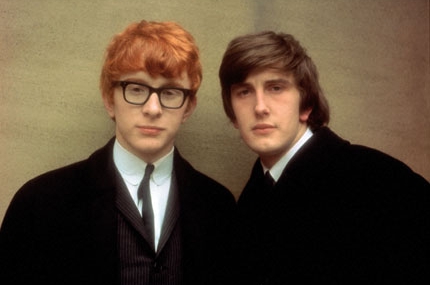 Peter & Gordon